Dental clinic in Limassol – Dr. Andreas St. Colios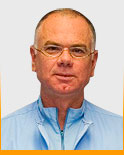 Dr. Andreas Colios is a graduate of the Albert-Ludwig University of Freiburg in Germany and the University of Athens where he worked as an assistant for two years.
He attends various seminars & courses & workshops during the twenty three years of his career such as the Brannemark clinic in Sweden for dental implants and the periodontal surgery in Athens (six months workshop).
He is a member of the German Association of Endodontics (D.G. Endo). He has attended a six month course at the German Association of Implantology (D.G.I) of which he became an approved official member.
He is attending yearly in various seminars & courses locally and abroad.
Since 2009 he is the the director of the Swiss International Team of Implantology Study Club in Limassol.
Languages spoken: Greek , English, German, French.
---
Assistants of Dr. Andreas St. Colios
Ileana Pattichi
Ileana was born in Bucharest and has been in Cyprus since 1998. She is a certified dental technician and has been with us for the last fifteen years.
She speaks fluent Romanian, English, Greek and Italian.
---